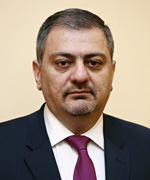 Vache Gabrielyan
Vice Prime Minister
RA Minister of International Economic Integration and Reforms
In office since
28 November 2014
Curriculum Vitae
Date and Place of Birth
November 24, 1968, Yerevan
Education
11985-1990 – Honors diploma received from the Economic Cybernetics Department of the Yerevan State University, where he attended post-graduate courses in 1990-1992
1992-1998 – Public Administration Department, Ratgers University (New Jersey, USA), Master in Public Administration (MPA) received in 1992, Philosophy Doctor in Public Administration (Ph. D. in the Republic of Armenia) received in 1998
Since 1998 – The office of reader combined at the Economics Department of the Yerevan State University and the Faculty of Political Sciences of the American University of Armenia. He is author of a number of scientific papers published both in Armenia and abroad.
Career Experience
1990-1992 – RA Supreme Soviet standing commission on financial – credit and fiscal policy, expert
1994-1998 – While studying for doctor's degree, he was reader at the departments of public administration and political sciences of Ratgers University (New York, New Jersey, USA). He used to be deputy director of the National Center of Public Efficiency of Ratgers University
1998-1999 – Adviser to CBA President
1999-2008 – CBA Board member
2008-2010 – CBA Vice-president
As of December 17, 2010 – Republic of Armenia Minister of Finance
On June 16, 2012, re-appointed to the post of Minister of Finance
As of May 8, 2013 – Chief of RA Government Staff
2013-2014, Minister-Chief of Government Staff of the Republic of Armenia
2014 April-November – Chief Adviser to the Prime Minister
As of November 28, 2014, Vice Prime Minister, RA Minister of International Economic Integration and Reforms
Party Membership
Republican Party of Armenia
Personal Status
Married, with two children